Jeff Erlanger
Jeff Erlanger
Do you remember playing on the swings at a playground? Racing down slides or whirling around on the merry-go-round with your friends? Playgrounds are a wonderous space where we can make new friends, learn social/motor skills, and connect with the outdoors. The intention behind a playground is to create an environment for everyone to come together, to play, to share, to learn. Unfortunately, for kids with a disability, making connections on a playground is often not possible. This was certainly the case for Jeff.
When Jeff was just 7 months old, he was diagnosed with a tumor on his spinal cord. The tumor was successfully arrested but left Jeff with a disability that required him to use a wheelchair for the rest of his life. The Madison Parks Foundation is proud to announce our fundraising efforts for a new fully accessible playground at Rennebohm Park that will be named in memory of Jeff Erlanger.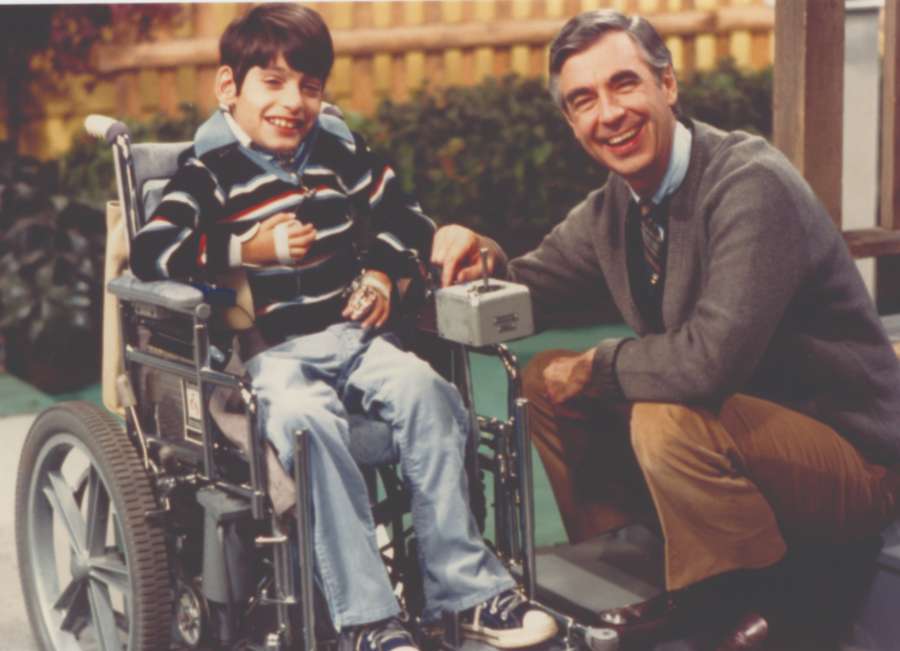 Jeff was an amazing person who connected with everyone he encountered. He met Fred Rogers, his childhood idol, when he was just 5 years old and in 1980, at age 10, he was invited to appear on Mister Roger's Neighborhood (Season 11, Episode 4). They talked about how Jeff's electric wheelchair worked and why he needed it. Together they sang the popular Mister Rogers song "It's You I Like", which made a long-lasting impact on Fred Roger's, so much so that in 1999 Jeff was invited to help welcome Fred into the TV Hall of Fame. Their touching interaction was featured in the 2018 PBS special Mister Rogers: It's You I Like, the big screen documentary Won't You Be My Neighbor, and a long-running PBS promo you can see at tinyurl.com/JeffPBSpromo. Tom Hanks said that seeing the clip of them singing was the trigger for him accepting the role of Mr. Rogers in "A Beautiful Day in the Neighborhood."
Jeff went on to graduate from Memorial High School and then Edgewood College. After graduation, he worked as an intern for then-Representative Tammy Baldwin and Senator Russ Feingold, and also worked on Kathleen Falk's successful campaign for Dane County Executive. He became very active in Madison politics and served as a member of the Economic Development Commission, chair of the Commission on People with Disabilities and chair of the Board of Directors of the Community Living Alliance. He also played a major role in gaining accessible taxicab services for Madison. Jeff passed away in 2007 when he was 36 years old. At the time of his death, the Mayor and City Council created the annual Jeff Erlanger Civility in Public Discourse Award in honor of his commitment to community-building advocacy. Kathleen Falk said, "Jeff was passionate about our nation on a big-scale level and equally passionate about our community," adding, "This is a man who devoted … countless hours to making things better for other people."
"It doesn't really matter that much what I can't do, it's what I can do – that's how I live my life." – Jeff Erlanger
July 26th, 2020, marked the 30th anniversary of the passing of the ADA – the Americans with Disabilities Act. In recognition of the principles represented by the ADA, we have made it our mission to create parks and playgrounds that can be accessible and equitable for all. That is why the Madison Parks Foundation has taken on the challenge of raising at least $300,000 to assist the City of Madison Parks Division in creating five fully inclusive and accessible playgrounds across the community. Anything exceeding this goal will go towards adding more than the five already planned.
Inclusive/Accessible playgrounds cost much more than an average playground – about $400,000 each. So far, the City of Madison Parks Division has funded inclusive and accessible playgrounds for Brittingham Park (2017) and Elver Park (2018). The Parks Division has committed about $1.6 million for the construction of the five inclusive and accessible playgrounds, but without the help of private funding, that will not be enough.
Jeff would have loved to have had the opportunity to play at a playground when he was a child, but there were no fully accessible playgrounds at that time. Today, Madison has 175 playgrounds, but only Brittingham and Elver are fully inclusive and accessible. We can do better, we must do better, to create a more inclusive space in our community for those with disabilities.
Your support is a great way to honor Jeff who spent his life advocating for those with disabilities.